As we launch our new survey on gift-giving in the NHS, we take a look at the many meanings gifts can carry and why they might be important to look at in the history of the NHS.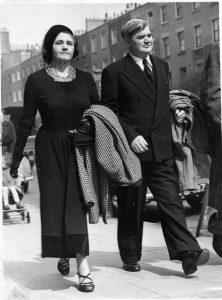 My colleague Natalie pointed me to a story in Jennie Lee's My Life with Nye. Although she was a forceful socialist politician in her own right, she is often remembered more as the wife and widow of Aneurin (Nye) Bevan, the health minister who founded the NHS:
"There was a strict rule in Nye's Ministry that any unsolicited gifts sent to him should be promptly returned. On one occasion, and only one, an exception was made. Nye brought home a letter containing a white silk handkerchief with crochet round the edge. The hanky was for me. The letter was from an elderly Lancashire lady, unmarried, who had worked in the cotton mills from the age of twelve. She was overwhelmed with gratitude for the dentures and reading glasses she had received free of charge. The last sentence in her letter read, "Dear God, reform thy world beginning with me," but the words that hurt most were, "Now I can go into any company." The life-long struggle against poverty which these words revealed is what made all the striving worthwhile."
The giving of gifts has been a common ritual over the seven-decade history of the NHS, whether that's giving tokens of gratitude to the staff or simply bringing in something for a patient to pass the time while they're stuck in a hospital bed. Yet it's an everyday feature of the NHS's history that's likely to be forgotten in time. When a large charitable donation is made or a charity provides equipment for a hospital that is likely to be recorded, and of course a gift to a health minister might get a mention in a political memoir. But there's likely to be no paper trail to find out about the box of chocolates, flowers or thank you card given to the nurses on the ward.
Such displays of gratitude are important. Not just because they are a tangible part of the human interactions at the heart of the NHS on a day-to-day basis, but because they reveal something about what we think of the NHS itself. It's not standard practice to give a gift anytime medical treatment is received, so we have to ask why it happens when it does. Much of the time, it's a recognition that a patient or family member thinks of the staff as having gone above and beyond what's expected. There's plenty of paperwork to accompany formal complaints, at least in recent years, and thank you gifts are their positive and easy-to-overlook counterpart.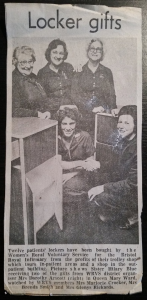 In a health service that doesn't (usually) take payment, the fact that people often want to give something back speaks volumes about our relationship with the NHS. This might be a small token of thanks to the nurse or the doctor, but might be about giving back to the institution. We don't know a huge amount about fundraising for NHS hospitals, for example, but sponsored marathons and the like often seem to be inspired by giving back after a family member has received quality care from the NHS.
Of course, there may be other reasons for giving gifts too. One former nurse told me that when she worked in one maternity hospital it was common practice for the expectant father to give a gift to the nurses when his wife was brought in. Not as a thanks for a job well done, but as a "bribe" to look after her properly.
And we should remember that gifts are not always given to the NHS, its institutions or its staff. Patients in hospital wards might be brought a bag of grapes, bunch of flowers or a pile of magazines to pass the time. And gifts of this kind can also tell us a lot about the NHS. It gives us an idea of what might not be provided – or what people might not expect to be provided – by this 'comprehensive' health service. While nobody would imagine the NHS would provide the latest issue of Take a Break, it did surprise me to find bedside cabinets (pictured) being gifted to hospitals by a charity in the 1970s.
In all kinds of ways, then, the NHS is daily the site of gift-giving. And that deserves to be part of how its history is written.