The author of this blog, Dr Helen Clifford, is a Museums Consultant for the University of Warwick, and has held curatorial, research, and teaching posts across the UK.  She kindly wrote us this piece to reflect on the memories triggered by looking at the childhood glasses of Jenny Crane, one of our researchers…
Jenny's pair of pale pink NHS spectacles trigger the opening of a large door into my childhood. I was confirmed to be short-sighted at the age of 3, I remember the test vividly. Too young to be sure of my alphabet the black figures were not of letters but of silhouette animals. I remember the large impressive chair, and all the hard shiny technical equipment.  I was intrigued, but not afraid. I remember the magic of everything coming into focus, as the optician selected the right lenses. 
 .
We were not very well off, and the spectacles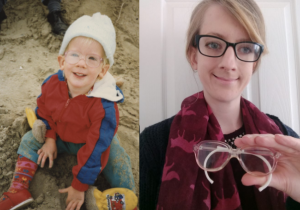 prescribed had to be NHS, there was absolutely no other choice – and just one style. As I am much older than Jenny, (the test would have taken place in the early 1960s)- the only spectacles you could have were metal with springy ear pieces and the frames were covered in an opaque pink plastic (were they blue for boys? I don't think so). I was quite pleased with these, until I went to school with them on.  Suddenly I was marked out, there did not seem to be anyone else in my class wearing spectacles. The name-calling was merciless, 'Specky Four Eyes'. It was the first time I was really upset at school. I came home in tears and my mother, ever resourceful, but misguided, decided that the problem with them was their 'medical' association. So she set to, and made tiny coloured felt flowers with leaves and stitched them on to the frames. They were lovely, but of course a disaster. This was really a turning point in my life. First I wore them to school, hoping no-one would see me, and then took them off as soon as I arrived, exacerbating my short -sight. I did not want to upset my mother, but I just knew what the reception in class would be. In the end I decided that actually it might be good to be different, and wore them stoically, amidst a barrage of laughter and taunts. But I stuck with them, and in the end I was accepted. It was a lesson well learnt, and the principle of this rite-of-passage has stood with me all my life.  
 .
The felt flowers did not last long, and I soon got used to the unadorned version. When I got to the age of 13 I was allowed my first pair of non-NHS spectacles, after saving up for them. This was another momentous life-occasion, and another step towards adulthood and the world of larger choice. Forty years on, I found it extraordinary that people wanted to wear vintage NHS spectacles – what is the secret of their attraction? Do they conjure up a lost world? Writing this blog has raised other questions – why are NHS things light pink? Is their flesh-like colour designed to make them unobtrusive, although in reality it marks them out.?The 'retro' versions today you will note, are stripped of their pink plastic, and look smart in shiny metal, neutralised perhaps of their origins? The tale of these spectacles symbolises an earlier time of fewer choices, less indulgent attitudes to childhood and fashion, and the attraction and repulsion of the opposing forces of conformity and individuality. One could say that the NHS and the spectacles prescribed were pivotal to the formation of my character. I wonder if this is just a very personal story or one that resonates with others? I would be interested to know!