This is a guest blog kindly provided by Samar Ziadat, of the Lothian Health Services Archive.  In the blog, she describes the holdings of the 'Women's Health collection' in the archives…
The material I was most interested in was to do with an Edinburgh-based organisation called 'Head On'. It was founded in the 1980s by feminist women who were interested in tackling issues surrounding women and mental health. The holding we have for Head On consists of documents such as meeting minutes, correspondence between the women, planning notes and lists, newspaper clippings, copies of medical articles and journals, and leaflets and booklets made by the women in the organisation.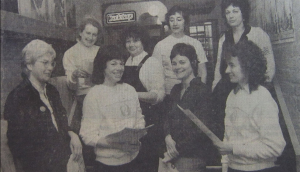 Head On committee members as pictured in a clipping from the Edinburgh Evening News, May 25th 1983
Head On's constitution, which was drafted in 1984, states that the organisation's objectives were to "set up projects and programmes designed to help women become more aware of their own mental health", "to educate and inform the public, social services, the media and others with respect to women and mental health", "to act as a liaison between, and support of, those working in the field of women and mental health" and "to cooperate in appropriate research". The constitution also highlighted that membership is "open to all persons who are sympathetic to the association's objectives". A line found in Head On's meeting minutes from June 2nd 1983 expresses that Head On"can mean different things for us all but at the heart it stands for our individual shared experience which enables us to reach out across differences to others and to feel better about ourselves".
The work that Head On carried out in the 80s is still relevant and urgent today. According to AuditScotland, more than twice as many women are consulting GPs for depression and anxiety as compared to men, with those living in the most deprived areas having lower overall mental well-being and more GP consultations for depression and anxiety than those living in the least deprived areas. This echoes the sentiments expressed by the women at Head On, who asserted that "if you are a woman you are more likely to experience depression, have tranquilisers prescribed, or be admitted to a psychiatric hospital than if you are a man".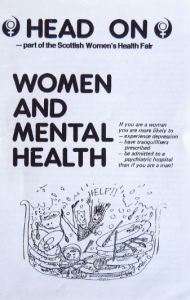 A Head On booklet which was distributed at their health fairs (GD31/14/2)
The organisation's earliest projects consisted of two health events, one being a 'Women and Health Day' which was held at Edinburgh's still-existing Workers' Education Association in 1982, and a 'Women's Health Fair' at St. Cuthbert's Hall which took place in 1983. These events were primarily targeted at women, but attracted and welcomed people of all genders, including their children. Talks and workshops on women's mental health were held at these events, and literature written by the group was distributed.
In order to raise funds for their events, Head On organised parties such as the 'GLITTER GALS DISCO', which took place at Edinburgh nightclub Buster Brown's, and charged a £1 entrance fee. Head On's health fairs and fundraisers were planned through monthly meetings which were open to the public. A mailing list was also created which distributed information, meeting summaries and newsletters to members. During their meetings, the women of Head On delegated tasks to one another, discussed venue hire, drafted applications for funding, presented educational literature and illustrations which they had created to be sold at their events, distributed copies of medical reports and journals concerning women's health, and most importantly, shared their personal experiences with one another.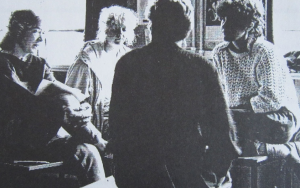 Women sharing experiences at a Head On workshop in 1988
Below are some examples of the experiences that women shared at Head On's meetings:
"We felt we were constantly under pressure to be good at everything, women must be the carers and the experts… there are expectations and assumptions that women will care. We are now seen as a resource by the state. Daughters take over the care of elderly parents, very seldom sons. Society expects women's natures to be soft, nurturing, emotional, and mothering… Women give emotion but how do they receive it back?" – November 9th 1982
"It is considered a virtue to keep the home spotless. The pressure and the expectations are there all the time. Women should do this and is considered failing if she cannot. Here enters conflict. Her identity depends on doing the job well. She feels she should be at home, but would often rather be doing something else. Many times she feels unfulfilled. She feels unrecognised and underpaid." – November 18th 1982
The meeting notes which I found most poignant were from January 6th 1983. When the committee asked the women at the meeting what wanted out of life they replied with, "I want peace to be myself", "I want total economic freedom", "I want strength to be me", and "I want to have personal confidence". When exploring solutions to these wants and desires, some women expressed that "I need enough physical and mental strength to be independent" and "I need to assert myself". My favourite solution came from a woman who suggested listening to Diana Ross' "I want muscles" or Joan Armatrading's "I am a woman".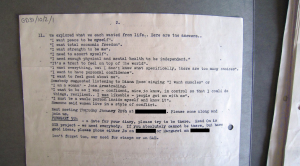 Head On meeting notes January 6th 1983 (GD31/10/2/1)
The success of Head On's health fairs lead to a request from the BBC asking to distribute some of Head On's booklets for free. The booklets were originally written for the Scottish Health Education Group, and with this new request, the booklets were to tie in with a BBC radio and television series, Well Woman, which was about women's health. However, due to government censorship, the BBC asked Head On to re-write the content of their booklets 36 hours before they were to be printed. Government officials felt that the booklets, which explained how the female body works and dealt with topics such as menstruation and contraception, were "overly concerned with sexuality". This caused national outrage, landing Head On media coverage from outlets such as The Scotsman and the Guardian. Public opinion in favour of the uncensored booklets guaranteed that the uncensored version of the booklets were to be made available during the rerun of the BBC show the following year.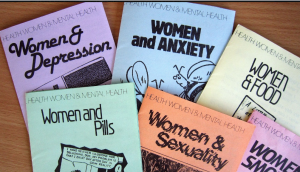 The controversial booklets created by Head On titled 'Women and Depression, 'Women and Anxiety', 'Women and Food', 'Women and Pills', 'Women and Sexuality' and 'Women and Smoking' (GD31/14/1)
The attention that Head On garnered as a result of the booklet controversy allowed them to open a fully funded women's centre.  The centre, which they named The Women's Health Shop, functioned as an information service on issues that affect women's mental health. The shop put on displays, held talks and workshops, produced feminist literature of women's health, and became a meeting place for women to talk to women about women's issues. Some of the talks and workshops held at the Shop had to do with the ways that menopause, benefits cuts, breast and cervical cancer, pregnancy and motherhood, and nutrition and stress affect women's mental health. The shop also facilitated for self-help groups to meet, providing a space to share experiences of depression and anxiety with other women over coffee. Additionally, women were invited to view the Shop's monthly displays, which advised how to eat healthy on a low budget, how to make their needs known to their doctors, and how to conduct self-examinations for breast cancer. A female nurse was also available to lend a sympathetic ear for any health worries or anxieties that the women wanted to discuss – this was especially important because many women didn't feel that their mental health issues were important enough to discuss with their doctors who were largely male. A range of books and resources on women's health were also made available for loan at the shop.
Although Head On and their Shop are no longer in action, there are plenty of resources on mental health available online at The Health Foundation, Mind, Timeto Change and Rethink. If you or someone close to you is struggling with mental health issues, please get in contact with your GP.