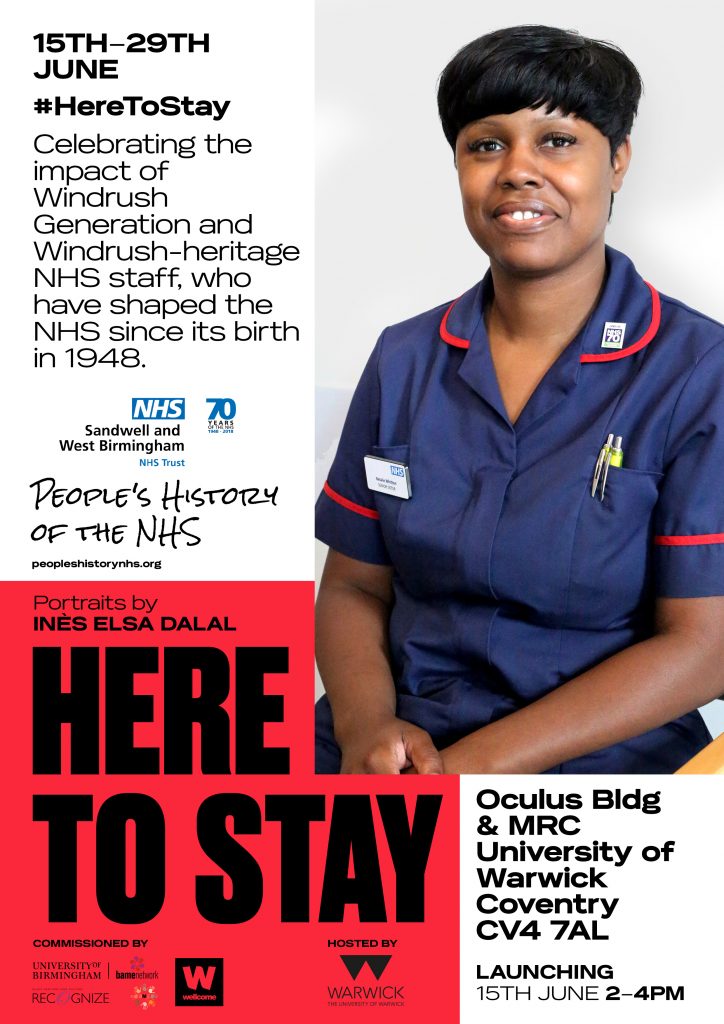 In 2018, inspired by the 70th anniversary of the arrival in Britain of the Empire Windrush, Donna Mighty, Assistant Primary Care Liaison Manager and Chair of the BME Staff Network at the Sandwell and West Birmingham NHS Trust, commissioned a series of formal portraits of past, present and future NHS nurses with connections to the Windrush Generation. These portraits are at the heart of the paired 'Here to Stay' exhibitions that will open here at the University of Warwick on 15th June (you can register to join us at the opening event here!) Donna tells us a little more about this process in her blog below.
In 2018 we celebrated the 70th Anniversary of the HMT Empire Windrush arriving at Tilbury docks on 22 June 1948 carrying passengers from the Caribbean.
Sandwell & West Birmingham NHS Trust and specifically their BME Staff Network, were very keen to celebrate this occasion and as such set about organising a Windrush Tea Party in partnership with the University of Birmingham's Black, Asian, Minority & Ethnic (BAME) Staff Network and Recognize Black Heritage & Culture to recognise and celebrate the contribution of the Windrush generation in shaping and building our wonderful NHS.
Our tea party took place on Saturday 16th June at University of Birmingham School. We had a wonderful afternoon of learning, entertainment, music and food.
We were keen to create a lasting legacy and capture portraits and stories of nurses (retired and current) who attended our event. We commissioned photographer Inès Elsa Dalal and the first photo shoot for what was to become our "Here to Stay" exhibition took place on 16th June. We held two further photo shoots in July and August.
In 2018 we had the opportunity to take the exhibition to London in August, Medicine Gallery in September, Sandwell & West Birmingham NHS Trust in October and the University of Birmingham's School of Medicine in November. (You can see pictures of these events here, here, and here, and learn a little more about Donna's amazing work for the NHS here!)
We are delighted to be working with Professor Roberta Bivins and the Cultural History of the NHS team to bring "Here to Stay" to a new audience. Do join us!