We are always interested in hospital art, graffiti, poetry, and culture.  This month, our researcher Natalie Jones, who is also a visual artist, went to Malta to speak at a conference about Beauty and the Hospital in History.  We are also currently building our programme for 2018, the 70th Anniversary of the NHS, which we hope will feature art work.
To start thinking about this, we've been looking at previous art projects commissioned to celebrate and document the NHS.  Here, we have a lovely blog from Ruth Singer, telling us about a recent project in this area.  We love how the art work uses personal stories from patients and local community members, as well as archival materials, to create such a beautiful document about the changing history of a local hospital:
To celebrate the cente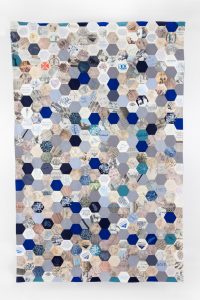 nary of Harefield Hospital, Royal Brompton & Harefield Hospitals Charity commissioned textile artist Ruth Singer to work with patients and the local community to create a commemorative quilt.   This project was par t of a 12 month project which, with the support of a Heritage Lottery Fund grant, aimed to re-tell the history of the hospital from a patient, staff and local community perspective.
A quilt was chosen as their major centenary arts project as a reflection on a 1917 Red Cross quilt made locally as a fundraiser to support the war effort during World War One. This new commission takes its inspiration from the heritage quilt but has been created in a mix of contemporary and traditional techniques. The interlinking honeycomb-like structure of hexagonal patchwork echoes the complex ecosystem of the hospital where each member of staff is vital to making the system work.
Over summer 2015 Ruth worked with staff, patients and local communities to create the quilt which is made from over 400 individual pieces. Archive images from Royal London Hospital Archives & Museum, personal testimony and hospital records have been combined with old nurses' uniforms to create a subtle colour palette and a complex design filled with intriguing details. The pieces used in the quilt were made during a series of workshops at the hospital, starting with screen printing and natural dye to create patterned fabrics to use. We used plants from the hospital grounds to colour the cloth and images from the buildings and archives as screen prints and digital prints. Other workshops included hand sewing and embroidery to embellish the quilt.
Written quotes include oral history testimony from staff and patients, as well as comments from the hospital's Facebook pages. Regular contributors have hand stitched their names onto patches and some contributors gave photographs of family members or documents which refer to their relationship to Harefield Hospital and to social activities related to the hospital. Hand stitched outlines of leaves refer to the wards named after trees growing in the grounds. We have also included details of the red and white ANZAC quilt and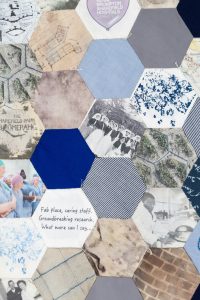 photographs of the ANZAC cemetery at Harefield Church.
Ruth says:
"Working with Harefield's people, buildings and archives has been an inspiring process. It has been an honour to include many personal stories as well as to celebrate the achievements of 100 years of dedicated care and research. This was a dream commission for me and it is great to know that it will be on show in the hospital for many years, giving patients and visitors the chance to reflect and think about the many lives Harefield Hospital has touched in a hundred years."
Karen Taylor, Arts Manager, Royal Brompton and Harefield Arts.
"With the support of the HLF we have been able to tell stories of patients, staff and local community to record the hospital's rich heritage – from its origins as a war hospital to its current role as a leading heart and lung specialist – for the very first time.  Ruth's quilt captures this history in a beautiful textile artwork which we are proud to display."
Artist Ruth Singer &  Photographer Joanne Withers.