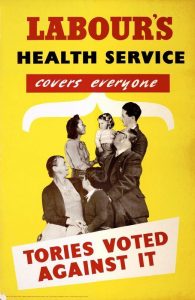 This blog post was kindly written for us by April Stephenson, who works at the People's History Museum in Manchester.
This poster was produced as part of the Labour Party's 1951 general election campaign. The election was unusual in the fact that it was called by the Labour Party, a year into Clement Attlee's term as Prime Minister in a bid to increase the Labour parliamentary majority. Rather than achieving this, it resulted in the return of Winston Churchill and a Conservative win. Labour did however win the popular vote with 48.8%. The NHS had been formed in 1948 and formed a key part of the Labour campaign, and the Conservative campaign chose not to propose any alterations.
This poster shows that the NHS has been involved in election campaigns from its foundation. In 1951 the NHS stood as an emblem for post-war values, a clear incentive to vote. The NHS continues to feature heavily in political campaigns – often resulting in debate – from the 'battle of Jennifer's ear' fiasco in the 1992 General Election, to the Brexit buses of 2016. This poster represents the Labour Party's active role in the NHS's past, and as such has been re-used since 1951 by the party as a symbol of their commitment. The poster can still be purchased from the party to this day, and in 2015 was produced as a tea towel during the party's election campaign.
The simple eye-catching design now hits a nostalgic note which ensures its continued popularity, whilst remaining relevant to the political situation today. The NHS remains a heavily contested point within political policy, which affects everyone it covers.
This blog will be the first in a new series, 'My favourite NHS object',  where anyone and everyone is invited to tell us what their favourite object is in our Virtual Museum of the NHS, and why.  Using these answers, and feedback from our public events and surveys, we will be redesigning our Museum, creating a new catalogue and adding content.  To help with this, please email Jenny Crane, at J.Crane.1@warwick.ac.uk.  Any and all contributions are very welcome!  What are we missing, what should we change?